The anatomy of a comeback
They didn't make it easy on the Bengals faithful but Cincinnati never cracked under the October heat and overcame a 17-0 deficit to defeat Ryan Tannehill and the Miami Dolphins 27-17.
When Jason Sanders knocked a 42-yard field goal through the uprights midway through the third quarter, the Dolphins had a win probability of 92.3 percent. That didn't matter to Michael Johnson, Sam Hubbard or the rest of the Bengals prowling in The Jungle.
27 unanswered points later, the Cincinnati Bengals had their fourth win of the season and one of the wildest comebacks in team history. Let's break it all down, big play by big play.
Joe Mixon and A.J. Green Setup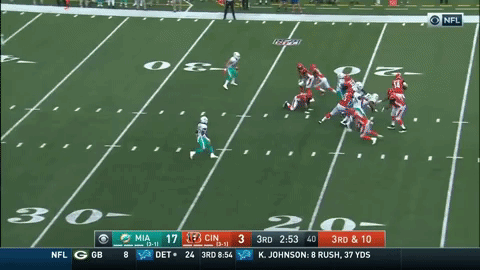 The game hung in the balance on this third-down Andy Dalton gem.
The Bengals could not afford a sack in this situation, Dalton recognized the rush quickly, rolled out to his right and delivered a laser to A.J. Green on the deep-crossing route. That's been the difference with Dalton this season, cool and calm when it matters most. He didn't have his best stuff on Sunday, but he came through in crunch time.
Joe Mixon jumped right back into pre-injury form with 93 yards rushing on 22 carries. None were more important than this first down run to put the Bengals in the red zone. Mixon blasts through the hole with that signature explosiveness and makes sure he finishes inside the twenty by lowering his shoulder and sneaking through the gap in Miami's safeties. Through five weeks Mixon is second in the NFL in rushing yards per game (90.7).
Mixon 18-Yard Touchdown Catch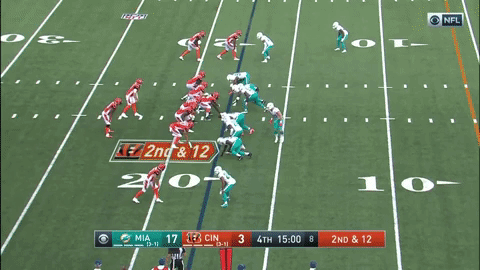 The only offensive touchdown on the day for the Cincinnati Bengals was also the first receiving touchdown of Joe Mixon's career. On what felt like a broken play, Mixon was able to find some wiggle room away from Kiko Alonso in the front corner of the end zone right as Charles Harris closed in on Dalton. The Red Rifle gambled on one of his best playmakers and it paid off, Mixon caught the floating pass before Alonso turned around. One score ballgame in The Jungle.
Michael Johnson INT Touchdown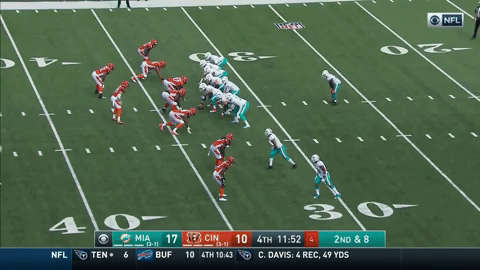 Another Bengals first, this time on defense. At this point, Cincinnati had momentum on their side but still faced a seven-point deficit against a team they struggled to move the ball on. That doesn't matter when you're in the right place at the right time.
Michael Johnson never gave up on the play and it paid off in his first career touchdown. The journeyman had Tannehill in his grasp before he barely slipped away and threw the ball at the line of scrimmage to avoid the rush.
DOINK!
Tannehill's pass ricocheted off Durham Smythe's helmet and right into Johnson's arms, nothing but green grass on the big man's way to the end zone. Miami came into the game allowing 34 pressures all season, that number didn't matter to this Bengals front seven. They hit Tannehill eight times and picked up three sacks in the victory.
Green Field Goal Setup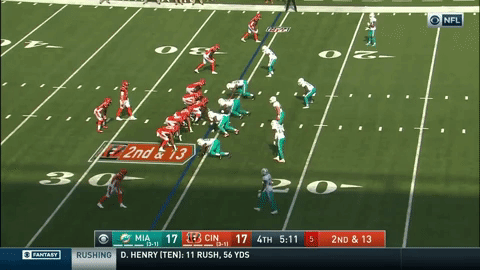 This wasn't the biggest play of the game but it was crucial in setting up Randy Bullock for a chip shot field goal to grab the lead and force the Dolphins into a must-score situation. Green runs a carbon copy of the play that set up of the Bengals first touchdown. Dalton sells the play action to Mark Walton and once again knew right where he wanted to go with the football.
Dalton's completion percentage on the season sits at 65.8 percent, just below his career mark of 66.1 in 2015. Quick decisions like this one to Green are a big reason why that career-high is in play.
Sam Hubbard Fumble Touchdown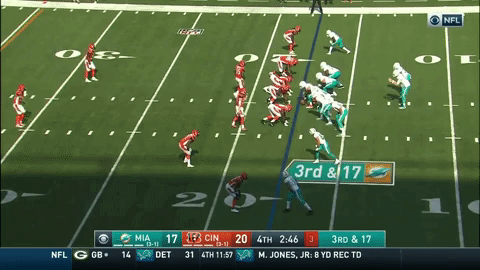 Cincinnati's 27-unanswered points culminated in this strip-sack recovery for a touchdown. Sam Hubbard is the star on this play but Carlos Dunlap does all of the dirty work. The Florida product shows off his motor all while poor Ju'wan James never stood a chance. Dunlap beats him immediately with an outside move then fights through the hold to blindside Tannehill.
The ball falls into Hubbard's lap and it's a one way ticket to 4-1. Sunday's victory marked the second time in team history that Cincinnati outscored a team by 24 points in the fourth quarter, according to ESPN Stats & Information. The Bengals are now 4-128 all time when down 14-plus points entering the fourth quarter. This team is young and somewhat inconsistent but they are never out of a game, Sunday's monumental comeback proved that.
Bring on Pittsburgh.
Blog of Football Sorrows: Week 13
Today I officially changed the name of this game recap blog. It just fits. To be positive about this iteration of the Bengals is to be a master of the mind that I cannot comprehend (aka delusional).
They're done. I didn't think they had much hope for the playoffs before the game, and they certainly don't now. The injuries are a problem, but they aren't the problem. The offense has been stale for weeks thriving on an identity-less scheme filled with dink and dunk passes and zero creativity. They now have four games left. The Raiders seem winnable, but with the hope of starting over, do we fans want that? Do we want there to be a glimmer of hope in management's eyes? I don't. I want change, and that doesn't happen by winning any remaining games, this year. Lose em all, blow it up, let's start fixing the problems that have been ignored for too long.
Jeff Driskel, to no fault of his own, was meh. Which is much the story of 2018. The game plan, in the beginning, seemed to be for him to get momentum built through screens and flat routes…but then they kept the training wheels on. Second quarter, third quarter…it kept going. The Bengals fell behind on the scoreboard and their answer was to run more crossing routes and short outs? Cincinnati ran RPO plays…and only passed. They asked an athletic quarterback who can move to stand tall in the pocket and fend off pressure from a defense with its ears pinned back matching up with a bad and battered offensive line. Kind of like James mentioned on the post-game pod, how bad is Cedric Ogbuehi that the answer to filling in for Cordy Glenn is the starting left guard and not your former first round pick, who is actually supposed to be a left tackle? So the coaching game plan was to tell Driskel to grin and bear it behind an uninspired line with uninspired play calling? But, you know, Marvin Lewis says "We've got to do our jobs better. The players have to execute the game plan the way it is coached." What? The game plan hasn't changed in 10 years! Different personnel, different opponents, different circumstances, same stale, boring, dull, lifeless, clueless plan. I get sick to my stomach when I listen to Marvin do a press conference.
The only thing left is the future, whatever may come. I know that is bleak. Not one of you reading these words can say, with a straight face, that you can see a different coach roaming the sidelines in 2019 who isn't Marvin or Hue Jackson. We know. We know there isn't going to be any change, and that's why the stadium is empty. That's why the orange in the stands at Paul Brown Stadium was Bronco orange and not Bengal orange. The sound at the end of the game? Cheers and applause, because anyone still there was a fan of the visiting victors. There's no one left to boo because they've been booing for so long they've lost interest. It is understood that the most likely outcome this season, if change comes at all, is that Hue takes the reigns. We'll go from a boring, uninspired, regularly out-maneuvered coach to a joke of a coach. So how can anyone care? I looked at tickets before the game. You could have sit 12 rows back in the endzone for $35…and I said no. Why? Because the joke that is the visual of the stands at PBS is the last thing we fans have left to tell ownership to get their rear in gear and fix this. Will they? You tell me…
Follow @jefffcarr and @lockedonBengals on Twitter for more angst Bengals content.
A lot of Bengals fans (myself included) wondered before the year why a young team with so much talent was pegged with worse Super Bowl odds than our in-state neighbors.
In the eyes of Las Vegas, it didn't matter that the Bengals rallied to end last season at 7-9 with a signature victory over the Baltimore Ravens. It didn't matter that the Bengals made legitimate offseason moves to sure up the offensive line. It didn't matter that Bill Lazor was given a whole offseason to install his system or that Teryl Austin was bringing a turnovers-or-bust mentality with him from Detroit.
It. Didn't. Matter.
The only thing that mattered was the face of the franchise returning for his 16th year. Marvin Lewis is and always will be the reason people around the NFL don't take the Bengals seriously and it's become both a blessing and a curse.
When Lewis arrived in 2003, he inherited what many considered to be one of the worst franchises in pro sports at the time. The players were using old jock straps, it was a dark time in Bengals history. Though to Lewis' credit, he rebuilt this franchise into something fans could actually be proud of.
They became competitive, they got to the base of Championship Mountain, but that's not good enough. Of the six coaches in the NFL who've been at the helm for at least a decade, Marvin Lewis is the only one without a Super Bowl trophy.
As of Nov. 28, Cincinnati has lost five of their past six games, their defense is the worst in the league, the offense can't operate without A.J. Green, and they've fired one coach in waiting while rehiring another. That go-ahead score against Pittsburgh in mid-October feels like it happened in 2015.
The Bengals might not have moved on from Marvin, but I have, there's nothing else I need to see following that 35-20 beatdown this past Sunday. ESPN has pegged Lewis with a 60 percent chance to be fired and though this might be for nothing, here are two head coaching paths the Bengals could choose to down in January.
Anyone But Hue Jackson
11-44-1
That's really all that needs to be said. Hue Jackson is a great POSITION coach, but he has proved over a large sample size that he is inept as a HEAD coach. Jason La Canfora reported before the Browns game that Jackson has a real shot to replace Lewis if he steps down or takes a front office role.
Fans would be less excited about this than retaining Lewis, especially if he's in the building overseeing nine of the 10 or 11 losses this team is headed for. Who are we kidding here, this is Lewis' best friend and if anyone has shown the ability to persuade Mike Brown over the last 16 years, it's Marvin Lewis.
Jackson is the clear frontrunner if a coaching change ends up happening.
Eric Bieniemy
A former Bengals player from 1995-98, This is the home run hire for Cincinnati. Bieniemy is in his first season as offensive coordinator of the Kansas City Chiefs and I don't have to throw stats in here to prove why that's been a success.
As a former player for the franchise, Bieniemy has that familiarity that Brown always looks for in new hires. He could come in and immediately offer a fresh perspective on this roster, answer the Andy Dalton question, and start to move this organization into a new era.
Bieniemy has primarily coached running backs before taking over for Matt Nagy this season and some great ones at that: Adrian Peterson, Jamaal Charles, Kareem Hunt have all learned and thrived under Bieniemy. Imagine his expertise paired with the talent of Joe Mixon.
Oh and for those concerned with the "lack of coaching experience" after just one season as an OC, just look at the past two guys to hold Bieniemy's current spot. Doug Pederson went from Chiefs OC to winning a Super Bowl, Nagy has turned the Bears from a laughing stock to a contender in his first season. Those expectations might not be fair for Bieniemy, but the blueprint is out there for Mike Brown to make a championship hire.
A Sucker Until the Bitter End
Am I frustrated? Yes. Do I look back at week 5 when the Cincinnati Bengals sported a 4-1 record and feel as though that was a lifetime ago? Sure. Here's the thing, Stephen A. Smith said, and I don't remember word for word, but if you continue to support the Bengals who continue to refuse to put a competent product on the field then you are a sucker. I must confess, I am a sucker.
Sure, I am in the camp that is counting down the days until things change…even though I do not know when that countdown will end. You can check out my last post for reference. That being said, I am still going to be a fan. I'm still rooting for my team. That won't change. Heck, I even mentioned that I might go to the game, this Sunday, if I can get a deal on some lower bowl tickets.
I had a buddy tell me he'd rather get hit by a car than go to the game, and I can't blame him. Heck, there might be more value in staying away from the stadium, to get the point across to Mr. Brown. Here's the thing, though, I am actually sort of looking forward to what will happen with Jeff Driskel. Now, I'm not saying I want him to be theguy, but entertain me for the rest of the season. When we think of football, that's the basis of what we're looking for, entertainment. I believe Driskel has the possibility to be entertaining. Urban Meyer once thought he could be the next Tim Tebow. What that tells me is he has heart and toughness. Joe Goodberry broke down a play in which Andy Dalton ran against the Browns and Driskel later ran, against the exact same defensive look. Andy threw a pick and Driskel threw a TD, so who knows? Maybe this won't be that awful.
So what are you thinking about the Bengals? Are you burning jerseys? Are you cancelling season tickets? Are you switching allegiances? Hit me up on the Twitter (@jefffcarr), or here in the comments section, I want to get a gauge. I don't blame you if you do any of that, by the way. I can see why you'd want to switch allegiances (just don't be a Steelers' fan, that would be messed up). Just know that I will be here, still. There's something in my DNA that no matter what Mr. Brown and the gang try to do to my fan heart, I keep coming back. It might physically hurt me to no longer be a Bengals fan, I don't know, but I'm not going to find out. I keep hanging on to that super-slim hope that one day there will be a Super Bowl ring. One day I'll get to sing "We are the Champions" in regards to my Bengals, and that will be enough to erase all these years of wondering if I could have better used my time on Sunday.
Follow @jefffcarr and @lockedonBengals on Twitter for more Orange and Black content!