The anatomy of a comeback
They didn't make it easy on the Bengals faithful but Cincinnati never cracked under the October heat and overcame a 17-0 deficit to defeat Ryan Tannehill and the Miami Dolphins 27-17.
When Jason Sanders knocked a 42-yard field goal through the uprights midway through the third quarter, the Dolphins had a win probability of 92.3 percent. That didn't matter to Michael Johnson, Sam Hubbard or the rest of the Bengals prowling in The Jungle.
27 unanswered points later, the Cincinnati Bengals had their fourth win of the season and one of the wildest comebacks in team history. Let's break it all down, big play by big play.
Joe Mixon and A.J. Green Setup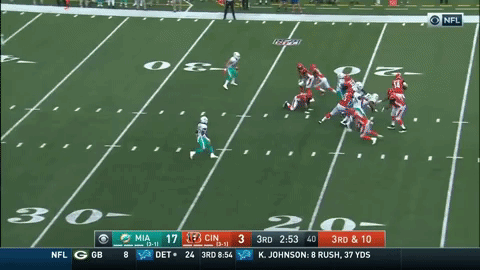 The game hung in the balance on this third-down Andy Dalton gem.
The Bengals could not afford a sack in this situation, Dalton recognized the rush quickly, rolled out to his right and delivered a laser to A.J. Green on the deep-crossing route. That's been the difference with Dalton this season, cool and calm when it matters most. He didn't have his best stuff on Sunday, but he came through in crunch time.
Joe Mixon jumped right back into pre-injury form with 93 yards rushing on 22 carries. None were more important than this first down run to put the Bengals in the red zone. Mixon blasts through the hole with that signature explosiveness and makes sure he finishes inside the twenty by lowering his shoulder and sneaking through the gap in Miami's safeties. Through five weeks Mixon is second in the NFL in rushing yards per game (90.7).
Mixon 18-Yard Touchdown Catch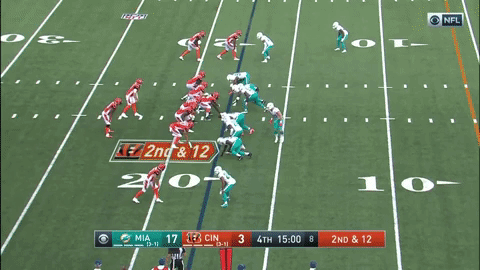 The only offensive touchdown on the day for the Cincinnati Bengals was also the first receiving touchdown of Joe Mixon's career. On what felt like a broken play, Mixon was able to find some wiggle room away from Kiko Alonso in the front corner of the end zone right as Charles Harris closed in on Dalton. The Red Rifle gambled on one of his best playmakers and it paid off, Mixon caught the floating pass before Alonso turned around. One score ballgame in The Jungle.
Michael Johnson INT Touchdown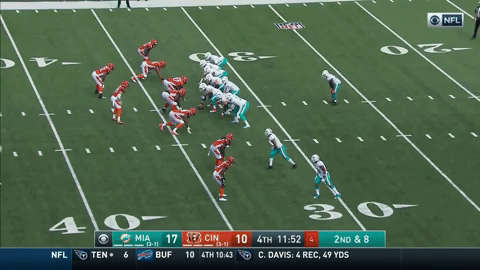 Another Bengals first, this time on defense. At this point, Cincinnati had momentum on their side but still faced a seven-point deficit against a team they struggled to move the ball on. That doesn't matter when you're in the right place at the right time.
Michael Johnson never gave up on the play and it paid off in his first career touchdown. The journeyman had Tannehill in his grasp before he barely slipped away and threw the ball at the line of scrimmage to avoid the rush.
DOINK!
Tannehill's pass ricocheted off Durham Smythe's helmet and right into Johnson's arms, nothing but green grass on the big man's way to the end zone. Miami came into the game allowing 34 pressures all season, that number didn't matter to this Bengals front seven. They hit Tannehill eight times and picked up three sacks in the victory.
Green Field Goal Setup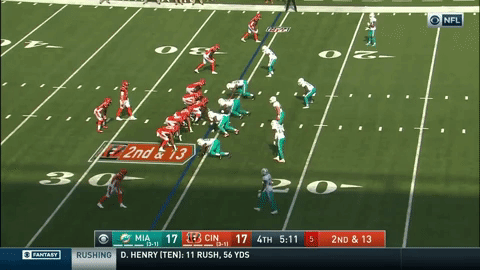 This wasn't the biggest play of the game but it was crucial in setting up Randy Bullock for a chip shot field goal to grab the lead and force the Dolphins into a must-score situation. Green runs a carbon copy of the play that set up of the Bengals first touchdown. Dalton sells the play action to Mark Walton and once again knew right where he wanted to go with the football.
Dalton's completion percentage on the season sits at 65.8 percent, just below his career mark of 66.1 in 2015. Quick decisions like this one to Green are a big reason why that career-high is in play.
Sam Hubbard Fumble Touchdown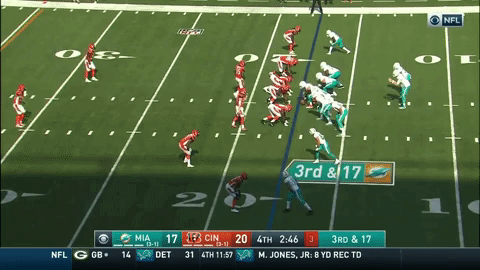 Cincinnati's 27-unanswered points culminated in this strip-sack recovery for a touchdown. Sam Hubbard is the star on this play but Carlos Dunlap does all of the dirty work. The Florida product shows off his motor all while poor Ju'wan James never stood a chance. Dunlap beats him immediately with an outside move then fights through the hold to blindside Tannehill.
The ball falls into Hubbard's lap and it's a one way ticket to 4-1. Sunday's victory marked the second time in team history that Cincinnati outscored a team by 24 points in the fourth quarter, according to ESPN Stats & Information. The Bengals are now 4-128 all time when down 14-plus points entering the fourth quarter. This team is young and somewhat inconsistent but they are never out of a game, Sunday's monumental comeback proved that.
Bring on Pittsburgh.
Not Another Bengals, Chiefs Preview
Week seven of the NFL regular season is upon us and the Cincinnati Bengals have a golden opportunity this Sunday on the road against the Kansas City Chiefs. Guessing that's not where your mind went when you thought of this game?
The Basics
The Bengals and Chiefs have squared off 28 times, over the years, with the Bengals holding a slight 15-13 advantage. Cincinnati holds a four-game winning streak over Kansas City with the last loss coming at Arrowhead in 2007. Marvin Lewis is 6-2 against the Chiefs and 2-2 at Arrowhead. The Lewis-led Bengals have outscored the Chiefs 167 to 136, in their eight meetings.
The last game between these two teams was in week four of the 2015 season. The Bengals won in Paul Brown Stadium 36-21 with four of the touchdowns coming from running plays. Three TDs were scored by Jeremy Hill and the other came from Giovanni Bernard. The lone TD pass was a 55-yarder to Brandon Tate from Andy Dalton.
The Offense
This is a marvelous chance for Andy and the offense to get back on track. They managed just nine total yards in the third quarter against the Steelers, but will be facing a very pedestrian defensive squad, this coming Sunday night. In two games career games against the Chiefs, Dalton has completed 66% of his passes for 551 yards and three scores. He will face a Chiefs defense that ranks stone cold last in pass defense, allowing 340 yards per game, through the air.
Joe Mixon will be happy, though, as the Chiefs also allow an average of 127 rushing yards, per game. In fact, the Bengals offense, as a whole, should feast on Sunday. They're averaging 29 points per game and the Chiefs allow 28.7 per game.
The Defense
They're banged up, and they're outgunned in this matchup. Statistically, Cincinnati's defense has fared only slightly better than Kansas City's. The Bengals are allowing just over 400 total yards, a game, and 26 points per game. Couple that with the high-flying offense of Patrick Mahomes, who averages 418 total yards and 35 points per game, and I'd say you should bet the over, whatever Vegas has it set as.
Nick Vigil and Darqueze Dennard have been ruled out and Shawn Williams is listed as questionable. Given that eight different defensive starters came off the field last Sunday, at different points in the game, and this coming game may be crazy, simply from a health standpoint.
The Skinny
This matchup has a real chance at being a playoff preview as well as a carbon copy of the Falcons game, a few weeks back. The Chiefs will be in a battle with the Chargers, all season, for the AFC West and the Bengals, though on top for the moment, have no room for comfort with the Ravens and Steelers knocking on the door. Whoever has the ball last in this pivotal game could very well end up the winner.
I'd expect to see a lot of William Jackson and Tyreek Hill matchups. Some have said Hill is the best receiver, in the game, this year so Jackson will need to be on his toes for all 60 minutes. Meanwhile, Kansas City receiving threat 1-B, Travis Kelce, will probably be Teryl Austin's biggest headache. The Bengals, no matter the personnel or the coaching staff, have always struggled to cover the opposing tight end. Enter, arguably, the best tight end in the NFL with his 468 receiving yards and three TDs. I'm no expert fantasy football predictor, but I'd bet he is a top scorer, this week. And I haven't even mentioned the Chiefs' stud running back, Kareem Hunt. Dude is a threat to run all over the place (456 yds, 4th in NFL) and be a pain to the Bengals pass defense (17 yards per catch). Pray for Austin and the Bengals defense.
Bringing it Home
That being said, this is a winnable game for the Bengals. They have the firepower to hang with Kansas City. If you jumped off the wagon after the loss to the Steelers and think the Bengals are going to get absolutely crushed by the Chiefs, you won't agree with me, so whatevs, but this game isn't that big of a mismatch. John Ross will be on the field for Cincinnati, giving them their bonafide deep threat to contend with the Chiefs' big play abilities. AJ Green has nobody to worry about on the Chiefs defense, and will be able to roam free, looking for holes in the coverage. Which just means Tyler Boyd will be able to give as much of his safety blanket-ness to Andy as he can. Should the line have a rough day protecting the pocket, Dalton will have plenty of chances to scramble and make something happen while extending the play. One of these two teams will begin the game hot only to try to slow it down with the rushing game, but I believe both defenses will be porous enough to allow some highlight reel plays deep. This is going to be an entertaining game to watch, if your pacemaker doesn't give out in the first half. Call me crazy, call me a homer (whatevs, I'm no professional), but I say the Bengals win.
Prediction: Bengals 42, Chiefs 38
Follow @jefffcarr and @lockedonBengals for more Orange and Black content on Twitter
WATCH: Houshmandzadeh says the Bengals are going to beat the Chiefs
Former Bengals wide receiver T.J. Houshmandzadeh says the Bengals are going to beat the Chiefs on Sunday night football. He also thinks Andy Dalton's struggles in primetime games are just a 'coincidence.' He was a guest on 'The Herd' on Fox Sports One. Watch the video below.
'Vontaze can be as great as he wants to be'
Vontaze Burfict has been talked about a lot this week. Not for his dominant play, but for a questionable hit on Steelers wide receiver Antonio Brown.
#Bengals dirty LB Vontaze Burfict, who is just coming off a suspension, with a late hit to @AB84 Antonio Brown's helmet. pic.twitter.com/QSiCg79IQf

— Dov Kleiman (@NFL_DovKleiman) October 14, 2018
This isn't new for Burfict. His play has been discussed for years. He's been fined or suspended 11 times in his career, which has cost him over $1 million in salary.
Some people believe Burfict should be suspended for the rest of the season. Others think he should be out of the NFL forever. There's no denying that he's earned his reputation.
Burfict doesn't like how he's viewed in the media. If he wants to change it, he can start by playing like an elite linebacker against Kansas City. He doesn't look like the player he once was. It's probably because he's missed so much time over the past few years. Burfict has appeared in 11 games or fewer in his last four seasons due to suspensions and injuries. He hasn't forced a turnover since 2016, which is the last time he was playing at an elite level.
That leads me to a question that has been asked a lot this week: Is Burfict worth the headache? His teammates certainly think so.
"Vontaze can be as great as he wants to be," Carlos Dunlap said earlier this week. "And as you've seen up to this level he's played as one of the best linebackers in the league. And I feel like he has the potential to be even better."
Sunday is an opportunity for Burfict to put on a show. It's a chance for him to remind people that he is one of the best linebackers in the league. If he goes out there, dominates and does it without any questionable hits, then the entire country will see why the Bengals signed him to two contract extensions. Leading a struggling defense into Kansas City and getting a win would be huge for how people view him. Fans and media could discuss his stellar play, instead of a late-hit or a PED suspension.
He needs to remind people, including fans, that he can be a great player. Burfict just turned 28-years-old. He signed a contract extension with the Bengals last season. There has been plenty of chatter about Burfict this week, but that isn't bothering rookie safety Jessie Bates.
"He's so smart and he makes things easier for me communication wise," Bates said on Wednesday. "Obviously he's been doing this for a long time. He plays very violent and some people don't like that. I'm glad that he's on our team."
It's hard to envision Burfict changing at this point, but he can use Sunday to his advantage. He can show a national television audience that he's able to play the game at a high level and do so without getting fined, flagged or suspended for questionable play.
Once upon a time Burfict was an undrafted free agent who impressed coaches with his knowledge of the game. Fast forward to present day and he's a 'dirty player' who should be suspended or worse. Burfict has a chance to remind everyone of how good he can be. Whether or not he takes advantage of it is up to him.
For more, listen to the latest Locked on Bengals podcast below.